Messenger was contracted in late 2020 to undertake the collective re-roofing, masonry repairs and the careful deconstruction and rebuild of the existing lantern on the roof of the Cardinal's Library at The Oratory in Birmingham.
The Oratory, located in the Edgbaston area of Birmingham, was founded in 1849 by St John Henry Newman. The living quarters of the community is called the Oratory House and served as Newman's home from 1852 – 1890, apart from four years that he spent in Ireland.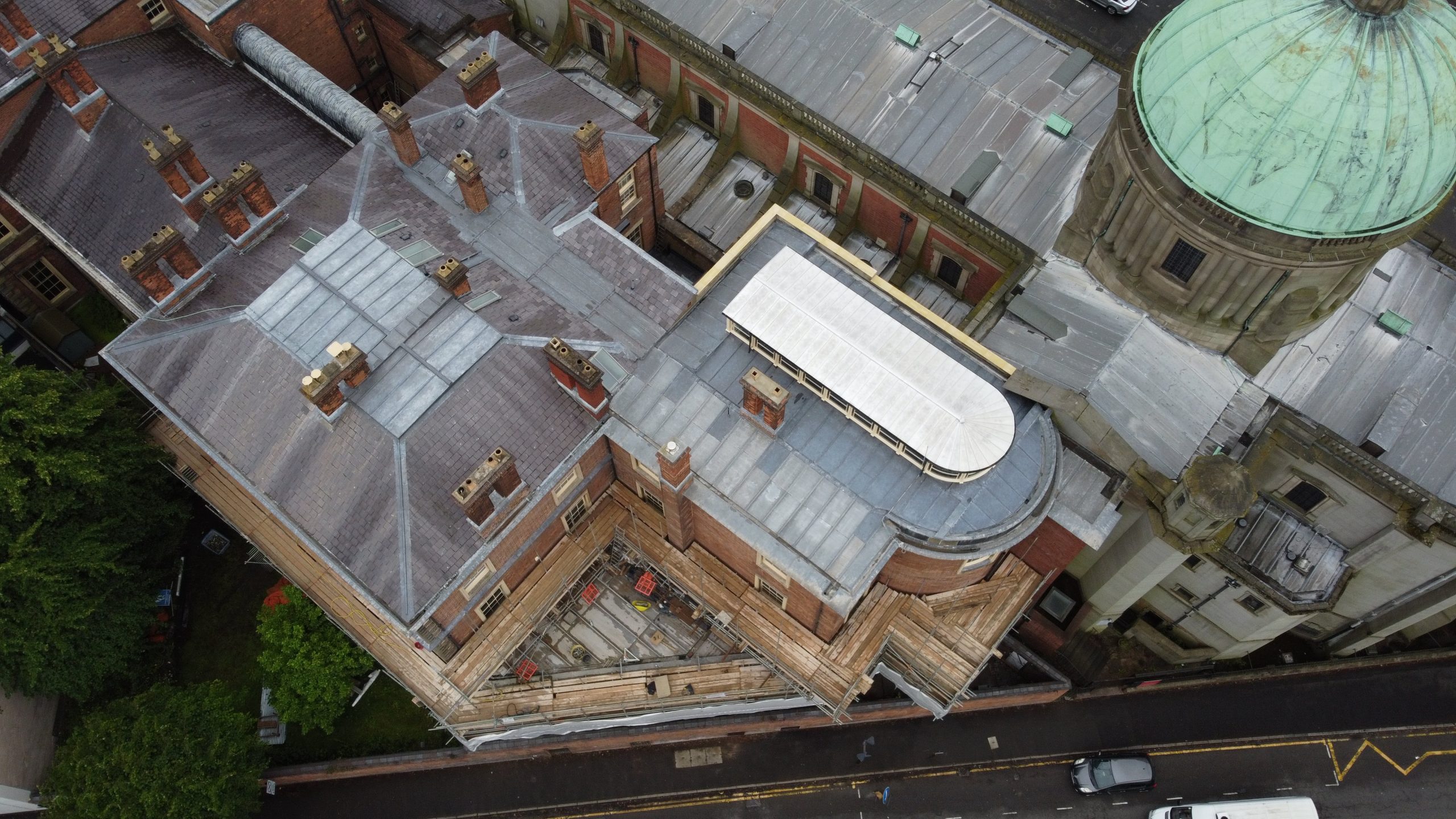 The oratory library is of great significance and houses a priceless collection of books which had to be first carefully documented, cleaned, and removed to safe storage – although a temporary roof was erected over the entire library roof, the moisture levels could not be kept to a constant equilibrium and the safest option was to have them removed for the duration of the works.
The lantern roof, which was in danger of collapsing, was carefully recorded before being painstakingly dismantled piece by piece – including the careful removal of both the plain and curved existing glass for reuse on completion of the main repairs. Timbers were set aside, inspected and where possible scheduled for reuse. On revealing the main structure of the lantern it was found that the primary timbers used to support the lantern had suffered many years of rot and had compressed under the load. This was the reason for the large deflection in the plaster ceiling directly below the lantern.
The main timbers were scheduled for careful replacement – an extremely tricky undertaking given their size and position within the roof.
The lantern now benefits from improved weather detailing as it was lifted to create an upstand, which better allows water to run off the cills and onto the newly formed lead roof below. A new Zinc roof was installed on top of the lantern and on completion it was fully redecorated both internally and externally.
Traditional plaster repairs were completed to the ceiling internally and again redecorated on completion.
Numerous other roofs were attended to which surrounded the lantern; works included forming new lead gutters, the forming of new flat roofs and the alterations to existing slated roofs.
On completion of the works, our client began the painstaking process of returning the library books to the original positions where the Cardinal's own hands placed them.
It was a pleasure for the team to work with both the client and Oliver Architecture in undertaking this sensitive and technically demanding project!