Here at Messenger, we feel extremely lucky to have a craftsman as talented as Jon Castleman DSc (Hons) work for us. Jon is by trade a time-served lead plumber and received an Honorary Doctorate in Science from Leicester University in 2010 in recognition of his work in the restoration and conservation sector. Worthy of note is that Jon made the lead inner casket for the remains of King Richard III, found buried under a car park (the site of a former chapel) in Leicester in 2012, he was also tasked with welding it shut.
Lead is one of the earliest metals known to man and has been in use for some 7,000 years. It was used extensively for roofing buildings in the medieval period when the open timber roofs of flat pitch were developed. Many examples of lead roofs from this period exist today, although the lead covering is likely to have been recast since it was originally laid. The oldest surviving lead sheet on a roof is likely to date from the 17th and 18th centuries. Among examples of original work of this period still in excellent condition, are the roofs of St Paul's Cathedral, Westminster Abbey and York Minster.
Until the invention of the milling process at the end of the 17th century, all lead used on buildings was sand cast. This cast lead was of considerable thickness, usually far thicker than that used on buildings today. It was not until the 19th century that milled lead (or rolled lead as it is now known) came into common use.
Lead is one of the most corrosion resistant metals and is therefore at little risk of being attacked by polluted atmospheres. Although lead has a tendency for expansion and contraction on roof slopes, it is an almost ideal material for roofing and gutters. Lead can be easily worked into shape, easily jointed and fixed, and is readily available. Flatter pitched roofs are better suited to lead as there is reduced stress on the material however, if properly laid, lead can also be used on steeply pitched roofs.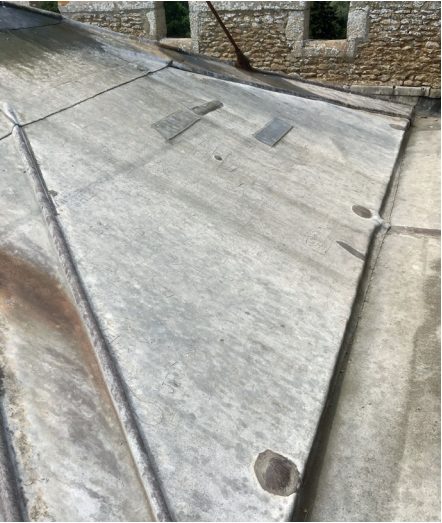 Repairs
It is a key principle of conservation work that as little should be changed as possible, so any new materials required should match the original. When lead sheeting becomes worn or split it can be repaired by lead welding, and it is only when it is beyond repair that the lead needs to be removed, recast and re-laid, making it one of the most recyclable materials around. This can give rise to considerable savings over completely renewing a roof.
THE SAME PROCESS TODAY; APART FROM THE DUST MASKS AND PROTECTIVE OVERALLS, LITTLE HAS CHANGED.
THE ART OF SAND CASTING LEAD
Today, cast lead is manufactured following the same basic methods as that which the Romans used to cast their lead. In essence, producing sand cast lead consists of throwing molten lead down a bed of prepared damp sand. This method has changed little since Roman times and the equipment needed is very basic.
In addition to being used on roofs, cast lead is also used for rainwater goods, heads and downpipes. If these are required with mouldings and patterns, a timber pattern is used to press into the sand on the table before the molten lead is thrown. These are then cut out and formed by hand into the pipes and heads as required.
Today there are skilled craftspeople spread across the country producing cast lead which complies with the recommendations and proposals of the British Standard Institute codes, and quality is strictly controlled, typically to ISO 9001 quality management standard. If a cast lead roof is also laid to good standards by a fully trained craftsperson, the normal life expectancy for this remarkable roofing material is at least 200 years. Sand cast lead is without question the ultimate choice when specifying the finest covering for historic buildings of significance that requires a long and service free cover.