Here is the latest Messenger Christmas effort and one that will become a tradition hereafter. We have decorated our tree with well over 4000 lights in an effort to bring Christmas cheer to the village of Collyweston and all who pass. We had always had a plan to light the tree since we moved here in 2018, but with this year being challenging in so many ways, we made the decision that 2020 should be the year to make it happen.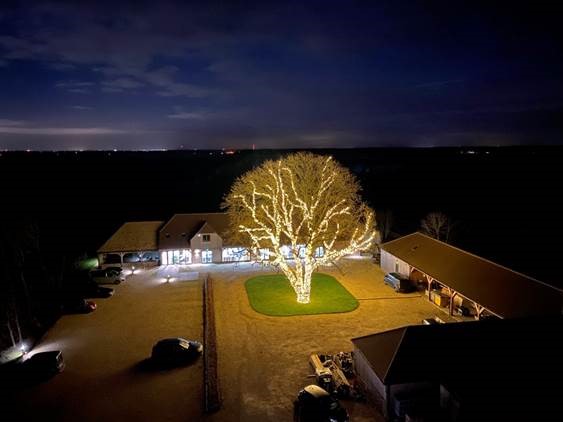 Another tradition at Messenger is that of the Christmas Crafting. Since 2016, each member of office staff has been tasked to produce something Christmassy from an everyday item:
2016 – toilet roll nativity
2017 – cork nativity
2018 – wooden spoon nativity
2019 – hanging decorations from an embroidery hoop
2020 – Christmas decoration from a small terracotta pot and a wooden crafting ball!!
Every year we are blown away by people's efforts and the diversity the challenge brings. This year is no exception with some really brilliant entries which include Geraldine Grainger complete with a full set of crocheted sprouts and a full diorama from Disney's Frozen!
Scroll through the gallery below to see who made what, and who had help!!
Our Messenger satellite offices in Birmingham and Lichfield have joined in with the Christmas crafting challenge for 2020 for the first time and it is safe to say they have found it very enjoyable too.
The month of December is a time the majority of the Messenger team look forward to and embrace. We normally support Christmas Jumper Day in aid of Save the Children, however this year we have chosen to support the Alzheimer's Society through Elf Day. Christmas jumpers are encouraged every Friday in December, with a little extra festive fun and a charity collection being held on the last Friday before Christmas.
This year is certainly a very different lead up to a very different Christmas, but here at Messenger we are determined to keep our small traditions alive and have tried to encourage Christmas spirit within the team and the local community.